View Other Content
Search Articles
Recent Articles
Latest News
The Aggression Scale
At my domicile via Netflix delivery
We have seen this story before. A family is terrorized by some thugs and the kids fight back.
But there is a twist. Owen (excellently played by Ryan Hartwig) isn't normal. He is smart, silent and his dad clearly loves him, but he is troubled and he gives his new step sister the creeps. You see, he has tested very high on the Aggression Scale.
I liked this movie. It isn't the best movie, but I like what they were trying to do. I really liked the Character of Owen because he is an excellent anti-hero, and the actor doesn't speak one word throughout the entire movie. And that is enough because the kid that plays him does very well, especially when contrasted by the barely keeping it together older step sister. The sister is the typical teenager, and is played as such. But Owen is very well done. I felt like I knew a kid like that, or I could.
The acting isn't the greatest. You won't recognize anyone really except the big bad guy. But it is well written, decently acted (one of the thugs made me cringe every time I saw him.) The main problem I had was that the ending was superfluous.
Still, for an Indy movie, it is really good. You should check it out, if you like thrillers and are ok with the low budget.
7 Salton Seas.
Read story →
0 comments
Viewed through Netflix (which lists the movie as NR instead of R for some reason)
This is one of those movies where you do not go in with high expectations. I wasn't too sure what to expect from the short description of an evil ghost infiltrating a military computer game, as that could go into scifi or horror fairly easily. Overall, I just hoped to be able to actually make it through the movie instead of stopping it after half an hour when I realized that I had stopped actually paying attention.
I was pleasantly surprised.
That isn't to say that this is a good movie, but it is an interesting take on the ghost horror genre and never made me consider switching to something else. The movie starts us off with with some special forces people who are in a virtual reality training simulator. As with all the cool VR machines, this one jacks with your frontal lobe so you don't know you're actually in a game. Basically general background and intro to characters type stuff.
Because it is what young geniuses do, a couple of the guys (the guys who run it) decide to steal the hardware for the weekend and take it to an unused facility where their bored friend is the lone guard. The plan is to play a fps in VR and generally have an awesome time. Sounds good to me. Of course, things go horribly wrong when the ghost of a tortured woman hijacks their game and starts trying to kill of players. The last two-thirds of the movie is the characters trying to understand and deal with that bit of insanity.
I didn't recognize any of the actors, though the lead actress is Rachael Taylor. Yeah, I had to look her up as well. She was in Transformers (the Australian chick) and is in Grey's Anatomy. The actors were all surprisingly good, and once the movie gets going, the whole techie horror thing works pretty well. There is a lot of violence, though not a ton of gore. The action is solid, as is the camerawork and the set pieces.
But ultimately its just an average horror movie. Nothing wrong with it, but nothing great either. It isn't particularly scary, though what of this genre is anymore? You have to go over to psychological thrillers to find scary. The ending is predictable, and the beginning is also pretty weak. I went in expecting cheese and though I was going to get it from the first few scenes. But once they get rolling, there is a solid movie behind this awful title.
Think of this like the Resident Evil movies (but not that good.. bc I love those). If you love the genre, this is a pretty good little movie to check out when you're bored. But if my description above doesn't sound like something you'd like, the actual movie is in no way going to change your mind.
3 out of 5 rainbows.
------------------------------
Comment on the boards here.
Read story →
0 comments
Company of heroes is on Sale - I've always thought these games were way better RTS than Starcraft/Warcraft -
http://store.steampo...fHeroesWeekend/
Buy them if you haven't played them.
Also, Tropico 4 is free to play. I love those games, so check that out.
Read story →
1 comments
After finishing up Dragon Age last week, I immediately started up DA2 and imported a saved game. So let's start there, with what DA2 is in relation to the first Dragon Age. Possible spoilers for DA1 below.
Dragon Age 2 is not a sequel as much as it is a companion game. This time around you are not playing as the Champion of Ferelden, but as someone fleeing Lothering as it is being destroyed. DA2 begins before the DA story is actually complete, though it takes place over ten years, so by the time you are through the first of three acts, the events of DA are complete and the Blight has been defeated. As such, you will not be getting the same companions as from the first game, though you may run into them or hear mention of their fates as you progress through the story. Personally, I ran into Flemeth and Alister and heard mention of Morrigan (though the demon child ending I got from DA1 was not continued). I understand that some people were upset to discover that this wasn't a true sequel with your old companions, but once I realized that I was playing a new character unknown to the original, I let that go. I would have liked to see more of the original cast, but honestly, I cared just as much for the new characters, so I stopped missing them quickly. The exception to all of this is the duo of Bodahn and Sandal. Your local merchant and enchanter are both back from their time in DA1 to serve you in DA2.
Graphics
Adding this is after the rest of the review is done, which probably shows how unimportant visuals are to me. But... this is a pretty game. The world looks good, the battles are bloody as hell, and the mage effects are a treat, even if they do tend to hinder me seeing what my warrior is doing inside that giant ball of flame. It is much much prettier than the first Dragon Age.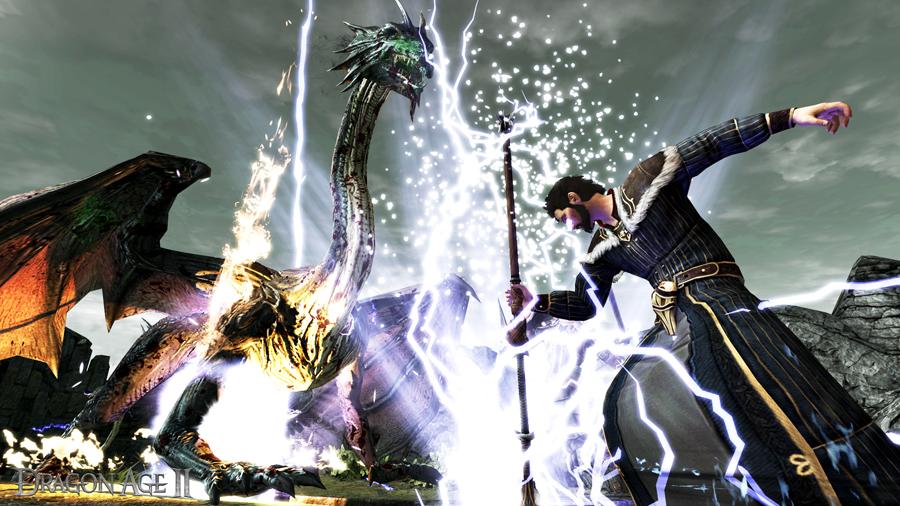 Combat
This is controversial, but I greatly prefer the combat in DA2. It is much faster paced, and as a warrior I felt like I could actually play my character as well as the computer could. In DA1, I constantly used Morrigan in combat instead of playing as my warrior. But in DA2 I played as the two-handed battle axe welding berserker that I wanted to in the first one. The tactics screen is still there, though this time I felt like I could set my companions tactics and then just leave them the hell alone, which was nice. One combat oddity is that enemies often appear in waves. You will kill off ten enemies or whatever and some more will randomly just down from the rooftops or grow out of the floor in the case of Shades/corpses. Combat isn't as tactical as the first game for that reason, at least not past the first wave. This honestly didn't bother me too much, though there were a few "oh shit, three warriors just appeared beside my mage who is on the other side of the area" moments.
For full disclosure, I don't play RPGs for the combat. I am here for the story and the companions and the decisions. I'm also the type that thinks that my character ever dying destroys the story (since I'm dead), so I do prefer manageable fast paced combat vs combat that I need to strategize over in order to win. You still get a bunch of skills to use in combat and the new skill trees are really good. You get between 5 and 9 skill trees per person, so there is good variety depending on your play style or if you are on play through two. These skill trees also introduce (or make more obvious) how your team can assist each other. For example, my warrior gets bonuses for striking a brittle enemy, which is a state an ice mage can put an enemy in. Also rogues get bonuses against dazed opponents, etc.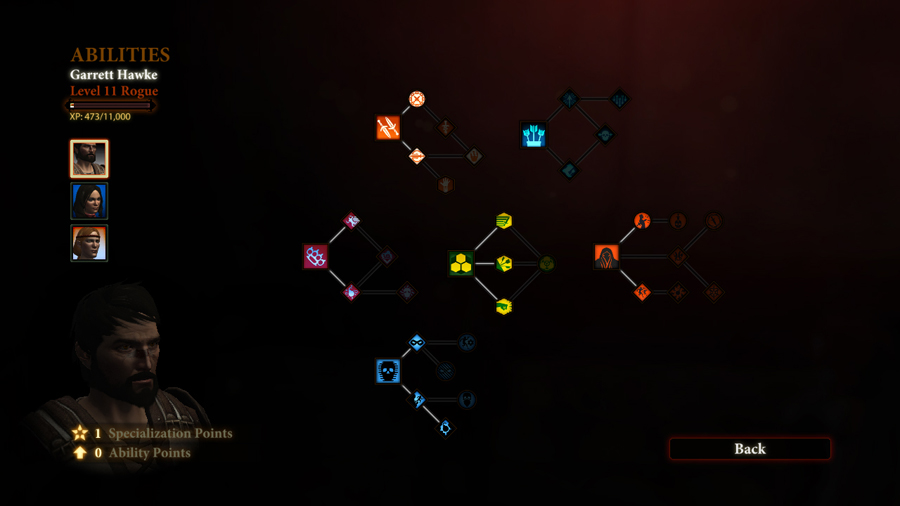 For what I want in RPG combat, DA2 does a good job. It gives me enough variety in skills to be interesting, but doesn't force me to be a tactician to win. I will say that the enemies are not incredibly varied though. I only had two points in the game where I thought the combat suddenly spiked in difficulty. In DA1, that happened to me once... the damn duel with Loghain, where I died like three times. In DA2, it again happened on a boss fight (end of Act 2), and then again in a random fight in the end game. I don't know what that says about anything, just thought it was worth pointing out. In both games, I found the last fight easier than some of the stuff leading up to it.
Companions
As mentioned, you get all new companions for this game for your party of four. You begin the game with your brother (warrior) and sister (mage) as companions (your mother is fleeing with you as well, but does not fight), and soon run into another warrior to round out your group. Once the prologue is over and you are actually in Kirkwall, you can find other companions. There are a couple of rogues, a couple more mages (of the blood and demon possessed varieties), and another warrior (of the magic enhanced variety). As in DA, each companion has an opinion of our hero, and that opinion is influenced by what you say in dialogue. Though in this game they are shown as friend or rival points. In fact, there are rivalry romances. I didn't go for one, but it can be done with a couple of companions from what I've read.
With the newer dialogue options, it is easier to not piss off anyone or unintentionally flirt with someone like in DA1. The screen shows you when you are about to choose a flirting option, so you can pursue or avoid as appropriate. Unlike DA1, I actively disliked a couple of my companions, which I think is a testament to the writing.
You can't fix companion relationships as easily in DA2 since buying and then giving gifts is now a thing of the past. You can still give gifts, but they are specific to a person and are found in your travels. No more going to the local merchant and buying a random gift because you pissed off Morrigan yet again. But with the more obvious dialogue when it comes to flirting, gifts aren't really needed.
One annoyance that I learned to get over is that your companion's armor can't be changed out, though you can upgrade it over time. This means that half of the things you pick up are worthless, since your warrior can't wear mage robes... and neither can your mage. Not a huge deal, but it is annoying at first.
You can lose companions from time to time, depending on how you play your cards. And you even get the chance to kill one of them. Personally, I really really wanted to and thought they deserved to die. But I really needed their skillset for the upcoming battle, so I let them live. This is the only time gameplay concerns overrode my story choices though.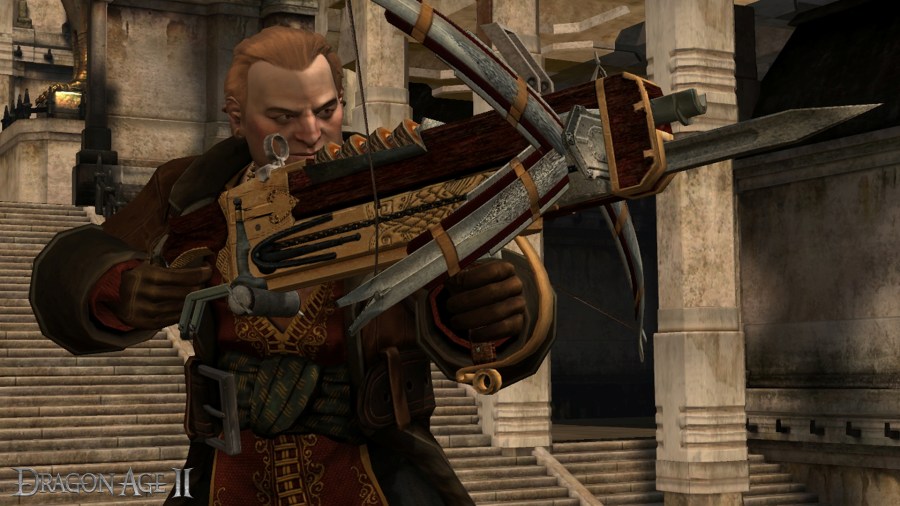 Crafting
Crafting is greatly simplified, which I appreciate. Now you just have to find a "node" of a craft material and then you have access to buy items using it back at your crafting table. I'm a huge fan of junk not cluttering my bags, so this was a plus for me. I suppose if you like carrying around 12 deathroot, it might be a negative. This isn't Skyrim, and crafting isn't the main point.. or even a secondary point. I actually found myself using runes because I didn't have to worry about filling my bags with useless parts.
Exploration
Speaking of Dragon Age 2 not being Skyrim, and of things that piss off the fanbase, exploration is not what DA2 is about either. Not counting the prologue and and end of Act 1, the entirety of DA2 takes place in the city of Kirkwall and the surrounding areas. This is a game about the politics and the inner-workings of the city, not about traveling around the country to gather armies for a war like the first game. You will be doing quests in the same areas and the caves and buildings repeat maps. Personally, I noticed but didn't care. I've seen other people call the game a piece of shit and say that Bioware failed due to this though. I think those people are morons who need to go play Elder Scrolls to get their exploration fix and come back to DA2 when they are ready to experience a great story. With that said, let's get to the best part of Dragon Age 2 and why I found it to be a great game.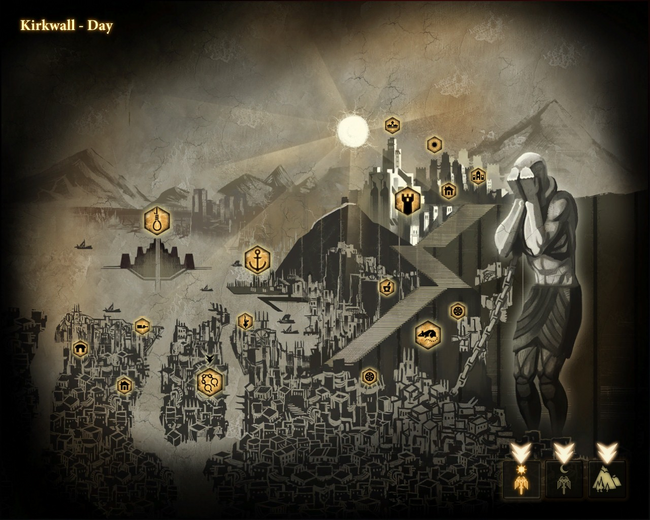 Story
Dragon Age 2's strength is in its story and your choices along the way. Unlike Dragon Age, which gave you the main plot at the beginning and then sent you off to fix it, DA2 gives you three acts, each with its own major plot aspect. While you can probably see the problems of Acts 2 and 3 coming, the story is good about giving you an immediate problem to deal with instead of the "go gather whatever random people you can.. we'll wait", like the first game did. Like Mass Effect, the dialogue has been changed to allow an easier time of knowing what is an investigative question and what is a choice with consequence (though it isn't
always
clear). There is a large amount of moral ambiguity as the game tackles topics of slavery, greed, racism, terrorism, politics, and the fear of power in uncontrollable hands.
This whole section is a little difficult to write without giving plot points away, but I will say that the story is moving at several points. Nav can attest as I texted him a couple of times with basically "this game SUCKS!!!", which, of course, didn't mean that the game sucked, but that someone I cared about had just died... again. I almost reloaded an hour previous save at one point before deciding to just suck it up and let the story play out. There are people who will die (or not) because of your actions. Companions included. There are people you cannot save and times when all of your options suck. Most of the time at least two of your companions will disagree with whatever decision you make. Heaven help you if you have Merrill and Aveline in your party at the same time. And considering that one is a tank and the other a dps mage, that is likely to happen. Like in DA1, I found myself ditching certain characters before I went places where I knew they would always be pissed off.
There were three times just off the top of my head where I stared dumbfounded at the screen before getting pissed at everyone who talked to me in game. One of which sparked a google search to see if I could change the outcome (I could, but ultimately did not). Another of which lead to the above instance where I could kill one of my companions.
Since the entire game takes place in and around Kirkwall, you grow to care more about the citizens, so the random side quests aren't as worthless feeling as in DA1 (or most any other rpg, for that matter). I found the companion quests that I did to be interesting, though I only did quests for about half of the companions. The quest screen tells you which of your quests are part of the main plot so, with the exception of Act 1, keeping to the main story is simple if you want. I actually did almost every quest I found in both Acts 1 and 2. Act 3 I left many things undone because the endgame snuck up on me. The game warns you in the first acts that you're about to lose the ability to complete side quests, but the endgame does not. And once it happens, you have no doubt that you're never getting to those other quests. Things escalate so quickly and so dramatically that there wasn't even a thought in my mind of the quests I hadn't gotten to. The ending was more satisfying than I was expecting. They left obvious room for a third Dragon Age, this one a proper sequel to DA2, in the epilogue.
Overall
At the end of the day, I recommend Dragon Age 2. I enjoyed it more than the original and do not agree with any of bad reviews over on metacritic. I thought the combat was more enjoyable than DA1, the companions are still entertaining, there is enough moral ambiguity to give you pause from time to time, and the story was excellent. On the negative side, the story from DA1 does not have enough of an effect on DA2, and the zones get repetitive after awhile.
Note that I have not played the expansion with Sebastian, and that I bought the game for $5 during that crazy sale on amazon a month ago.
If it fits your combat style, try to have the two rogues in your group while walking around. Their banter is highly entertaining. Varric and Isabella are my favorite Dragon Age 2 characters by a long shot.
-----------------------
Comment on the Forums!
Read story →
0 comments
The game is available on steam, and works with steamplay. The lack of hype and then $25 price tag totally disinterested me, even though I love the story world (Game of Thrones game anyone?).
What I didn't realize is that it is actually 5 5$ smaller games.
The graphics remind me of that old game 13 (I think) which I loved.
If they make it so that you can pick up each episode at a time, I'll probably pick this one up.
Read story →
0 comments
Tales of Graces F is Namco Bandai's latest game in the "Tales" series of RPGs to hit the United States. The original Tales of Graces was a 2009 Wii game, and this enhanced port adds tons of extras, including an extended prologue to the main quest. I suppose it is worth the wait for the "director's cut" version of the game, as knowing that the PS3 port of Tales of Vesperia will never be localized is disheartening to say the least. For those not in the know, since the original Tales of Graces was released in japan in 2009, there Have been 2 other Tales games released with no word on if they will ever be localized. "Tales of Xillia" for the PS3 and "Tales of Innocence R" for the PSVita. If you have even a passing fancy towards the Tales series, nothing will convince Namco Bandai more than sales to release the newer ones stateside.
GRAPHICS
If you are familiar with Tales of Vesperia or Eternal Sonata, you are familiar with Tales of Graces F's graphical design and quality. Think of any anime you've ever seen and you get the idea. Rich and vibrant colors on an HD console these days seem to be far and few between, and something that is definitely always welcome. Textures are clean and smooth, backgrounds are crisp and clear, and pop ins are nonexistent. All in all the graphics are very well done for the anime style of the game. One nit-picky criticism, however, would be that occasionally you can be reminded that this was originally a game designed for the Wii. This can be through an enemy model's texture that you notice seems kind of blurry and out of place, or a tree that you notice just doesn't quite fit. This is a problem with the game that is not limited to just the graphics, sadly.
SOUND
The Tales series has not been known for its music since the PS2 game "Tales of Legendia"(perhaps the only positive thing about that game), and Tales of Graces F is no exception. With the exception of one or two songs, the music is not memorable in any way. The voice acting on the other hand ranges from decent to excellent. Almost the entire main cast is done superbly, with perhaps exception to the character "Pascal" who sounds like she comes straight from NIS's latest train wreck. Perhaps another nice aspect of the voice acting is with the exception of maybe two party members, most of the main cast is voiced by actors who aren't in everything. It's nice to get quality voice acting that isn't Johnny Yong Bosch and Yuri Lowenthal every now and then. Another nice touch not present in some Tales games is that the "Skits" that occur throughout the game, small character interactions peppered all over the game, are all voice acted. This was something missing in other games such as Tales of the Abyss and its 3DS remake, and that made the skits unwatchable.
STORY, CHARACTERS, AND SETTING
Asbel Lahnt is a young boy with a disapproving father who expects too much of him. One day he and his wimpy younger brother travel to Lahnt Hill looking for adventure when they run into a young girl with no memories. Some things happen and now you have to save the world. If you are at all familiar with anime or the JRPG genre there will be very few surprises for you. After an hour of play time you will know exactly what will happen, when it will happen, and who it will happen to. The whole caste is there too. You have your clueless male protagonist who wants to have his cake and eat it, and the cute childhood friend love interest who has blatantly obvious feelings for him that he has no clue about. You also have the intellectual nerd, the badass soldier, and the WACKY child prodigy. Lastly, the amnesiac who doesn't understand anything or remember anything that stays bland and uninteresting throughout the game. When a new character is first introduced you will know exactly what their personality will be, and how they will interact with the other characters. The world of Tales of Graces F is also pretty cookie cutter. You have your monarchy that Asbel comes from, complete with a king and the people trying to kill him. You have your democratic republic out in the dessert with a politician doing what he can to stay in power. You have your dictatorship up north in the mountains trying to keep an oppressed people from rebellion. They all don't really like each other, and they can go to war at any moment.
The over world is set up Pokemon style, with routes and mountain passes and ships to travel around the world rather than a giant sprawling single map. This works, but there is very little detail in these roads. Another example of the game showing its Wii roots, traveling from town to town is uneventful and filled with repeating patterns. Tales of Graces F seems self-aware of this, and to try to spice things up there are a variety of "discoveries" scattered throughout the world. These sometimes give you materials you need for fusing weapons and armor and are usually accompanied by a skit. While a nice touch, it does little to make travel any more engaging. Of course, these are all minor things here and there, but when added together they make the whole premise of the game seem uninspired and cliché.
GAME PLAY
This is where the game truly shines. Usually in JRPGs, the story and characters are what make the game, and the game play serves as a vehicle to power through them. Not the case in Tales of Graces F. The battle system is nothing short of fantastic. If you are familiar with the Tales series you would know that it employs and Action RPG battle System. Graces F is the first Tales game developed from "Team Destiny" since Tales of Destiny and it shows. Rather than keeping track of "magic points" or TP or whatever, the game employs something called the CC system. Basically, CC is a stat that replenishes quickly in real time and is needed to do anything. Attacking depletes your CC, with more powerful attacks costing more, and some attacks needing to be comboed in to. Dodging, a main feature of the battle system, also costs CC but if you dodge at just the right moment you are actually awarded with more CC. There are two main types of attacks, A-Artes and B-Artes. If you are familiar with fighting games, think of A-Artes as your normal attacks and B-Artes as your special or magic attacks. Combining the two and experimenting makes finding out combos an absolute thrill. The system of a whole, that emphasizes blocking, dodging, and combos makes the game feel almost like a fighting game.
FINAL SCORE
All in all, Tales of Graces F is more of a "video game" than any JRPG in recent memory. It is a game first and foremost, a story second. Honestly, that is kind of a refreshing change for the genre. The story is cliché and predictable, but it is made passable by superb voice acting and decent writing. Namco Bandai did a very good job in the localization. Not many JRPGs make grinding to level up fun, but in Graces F it is the main draw to the game. You will find yourself horrendously over leveled for almost every boss fight. This won't be from the game being overtly easy, but rather from realizing you aren't running from every enemy encounter. Hopefully Xillia and Innocence R will get localized someday so we can see if Namco Bandai continues down this "gameplay first" path.
Overall, Tales of Graces F gets an 8 out of 10
Any Criticism on how this review turned out would be greatly appreceated. I am currently gunning for a gig writing for an up and coming website
----------
Comment on the Forums
Read story →
0 comments
Contraband
DVD in the Lair
Remember Gone in 60 Seconds? It's a film about a Guy who retired from crime, but has to go back to do one last big job to save his brother who got involved in a job that went bad.
So this is Contraband. It's a movie about a guy who retired from crime but has to go back to do one last big job to save his brother-in-law who got involved in a job that went bad.
I like Marky-Mark. I really like him because of how much he hates being called Marky-Mark. After The Big Hit he got a special place in the sub-cockle region of my heart, and while everyone lauds him in Boogie Nights I look at that as more of a vehicle for the exposure of Heather Grahams chesticles... but yeah, I like Mark Wahlberg, he is a guy I think should do more straight action flicks and try to wedge into the Arny/van-Damme Void with Dwayne Johnson.
another guy I really like is Giovanni Ribisi. He comes off as cool all the time. Don't know what niche he fits into but he tends to do it well, and finally we have Kate Beckinsale who I think is amongst the hottest women on the planet.
And Then you have Contraband. You have Wahlberg meandering through (and he Can't cuss a lot... a little bit of cussing is fine, but when he gets into the real foul mouthed type of roles it starts to feel... wrong for some reason) He swears too much, and while supposedly a master smuggler seems more like events and plans happen to him instead of his being in charge. Ribisi is in full-on awful mode, if they wanted it acted this poorly they should have just given the role to Nick Cage. Beckinsale is there, and completely irrelevant.
The issue here is Script and direction. You've got some odd Russian director who does not get the job done. The story meanders, and needs focus to engage the audience. The smuggling which should be the most interesting part of the film becomes tertiary behind Random threats and general shenanigans... It's a bad stack of priorities that does not work.
Not really worth the time for much of anything. It's a waste because this kind of film and studying the entire concept of trying to sneak stuff around and through could be cool... it's not here.
Skip it.
3 Pathfinders because I like the cast no matter how misused they may be.
------------
Comment on the Forums
Read story →
0 comments
Assassin's Apprentice (Farseer Trilogy)
- Robin Hobb
From NPR's Top 100 Science Fiction and Fantasy novels, we find this lovely piece of work at #69.
Book 1 of the Farseer Trilogy, Assassin's Apprentice, tells the story of a bastard son. Which wouldn't be that big a deal except it concerns the son of a prince. A nice wholesome prince who would never do anything wrong... and whose wife happens to be barren. Needless to say, a six year old bastard being thrown into the world of royalty causes the problem for everyone involved.
We follow the life of the bastard Fitz, from the time he is six years old as he is thrown into the hands of the stablemaster Burrich, a man who raises him the only way he knows how, like one of his animals. Over time, he is brought up into the castle proper and taught with the other well to do children of the keep. He is eventually taught this world's form of magic, called the Skill, by a teacher who mostly hates him for his birth. He also discovers that he can hear the thoughts of some animals, an ability more likely to get him burned for being a demon than praised. But those aren't the most important of his talents.
One night he is awoken by Chade, and in secret, under orders of the King, he is taught the art of assassination. As a royal bastard, he is in the unique position where he can go wherever he wants in the country without people questioning him, but they still do not want anything to do with him, so he is left to do whatever needs done.
Overall, Hobb creates an enjoyable tale. I thought it was just me until I saw another review say it earlier, but for the most part I thought Fitz was an idiot. I know I say that about most child characters I read about, but this fool... I'm amazed he lives through his own book.
In addition to following Fitz along, we learn of raiders who are attacking up and down the region's coast. But these are not ordinary raiders, for instead of killing their victims, they seem to suck the souls out of them, but leave them alive. Sort of like zombies, but not contagious.
Like the other trilogy I reviewed a book from today, this Book 1 also does not resolve all of the plot. It does resolve the main issues surrounding Fitz though, so I didn't feel like I was left hanging. This isn't a new series though, so there is nothing to stop you from immediately starting the next book even if it had though.
I give it 4 stars because it kept me reading and I love both magic (even mental-only abilities like this book) and assassins. But seriously... the lead guy is a fucking idiot.
------------
Comment on the Forums
Read story →
0 comments
Name of the Wind (Kingkiller Chronicles Book 1)
- Patrick Rothfuss
Pulled from NPR's Top 100 Science Fiction and Fantasy novels, Name of the Wind (number 18 on the list) has been compared to Harry Potter, and in places to Lord of the Rings. Harry Potter because it, in the words of NPR, contains "precocious lads at schools of magic", and LotR, I suspect, due to the sometimes flowery language and the scope of the epic. I can see both comparisons, but wouldn't use either.
Yes, WIND has magic, and teenagers attending a school where such things are taught. But this is a brutal world, and magic is not taught to ten year olds. Strong magic isn't taught to much of anyone. And the strongest of magics are only able to be controlled by the best in the world. Such magics are called names, and to learn one means to have control over the thing named (think about naming a demon in some lore). It is such power that draws our protagonist to
magic. Specifically the name of the wind.

I'll let the book itself introduce you to the main character, and give you a small feel for the writing style at the same time.
Quote

My name is Kvothe, pronounced nearly the same as 'quothe.' Names are important as they tell you a great deal about a person. I've had more names than anyone has a right to.

The Adem call me Maedre. Which, depending on how it's spoken, can mean The Flame, The Thunder, or The Broken Tree.

'The Flame' is obvious if you've ever seen me. I have red hair, bright. If I had been born a couple of hundred years ago I would probably been burned as a demon. I keep it short but it's unruly. When left to its own devices, it sticks up and makes me look as if I've been set afire.

'The Thunder' I attribute to a strong baritone and a great deal of stage training at an early age.
I've never thought of 'The Broken Tree' as very significant. Although in retrospect, I suppose it could be considered at least partially prophetic.

My first mentor called me E'lir because I was clever and I knew it. My first real lover called me Dulator because she liked the sound of it. I have been called Shadicar, Lightfinger, and Six-String. I have been called Kvothe the Bloodless, Kvothe the Arcane, and Kvothe Kingkiller. I have earned those names. Bought and paid for them.

But I was brought up as Kvothe. My father once told me it meant "to know."

I have, of course, been called many other things. Most of them uncouth, although very few were unearned.

I have stolen princesses back from sleeping barrow kings. I burned down the town of Trebon. I have spent the night with Felurian and left with both my sanity and my life. I was expelled from the University at a younger age than most people are allowed in. I tread paths by moonlight that others fear to speak of during the day. I have talked to Gods, loved women, and written songs that make the minstrels weep.
You may have heard of me.


Name of the Wind tells begins in an inn with a seemingly unimportant keeper in an unimportant town. We quickly learn of odd occurrences in the area and dark creatures that attack travelers. Our innkeeper is content to allow these poor people to believe they have witnessed a demon, because the truth is not something they could handle.
Before anything is resolved with the initial plot presented, the Chronicler (not a... 'the') appears while on his way somewhere else and recognizes our humble innkeeper as none other than Kvothe the Bloodless. And thus begins the real tale. The story of Kvothe Kingkiller, as told from the only man who can tell it correctly. The story takes three days to tell, with Name of the Wind covering the first day of telling, and the years of Kvothe's life until he was in his late teens.
We travel with him from his time working in a group of traveling performers to his days as a beggar and finally to the school of magic we were promised in those comparisons to Harry Potter.
The world is well written in a style I love. I never felt it was as wordy as Tolkien or Martin, who can each ramble about a hillside for 6 pages until you are familiar with each blade of grass, nor did I feel it was a simple read like Rowling's work in Harry Potter. This isn't a story that builds into one obvious climax, such as Harry's battle with the big bad each book, but tends to tell smaller tales along the way, much more similar to Tolkien and that old style of trilogy where each book wasn't self contained. And this book is certainly not self contained. You never do find out what the "demons" in the beginning are up to, but honestly, I didn't mind.
A complaint I have heard is that Kvothe as a child is too much an adult. The story even mentions that he is an anomaly. That may be some handwaving, but I hate reading children who actually are as stupid as children in my fantasy books, so I didn't mind at all. After all, a normal child in his life would have been dead 100 pages in. That being said, he still screws up a lot. He certainly makes plenty of poor decisions and stupid oversites. Like Harry Potter, I considered him a moron at times. Just a moron I couldn't stop reading about.
For me, there was a lull in the middle, where he is a beggar, during which I really did wish they would just get on with the damn plot. That was probably more due to my reading at 2am and them already mentioning the school several times, but still, it was there. For the most part, the plot flows along just fine. Just be ready for a young Kvothe to say and do stupid things from time to time in the name of youth, ignorance, and/or arrogance.
The book currently has 4.5 stars on Amazon and Shelfari.
Overall, I gave it 4 stars on Shelfari. The most unbiased view I can give is that I realized I was upset when I learned that the 3rd book in the trilogy has not been released yet.
Amazon Link
-------------
Comment on the Forums
Read story →
0 comments
This is a review I did over on Shelfari immediately after reading the trilogy. I'll edit this post to hide/remove some spoilers, but the Shelfari post contains some spoilers.
http://www.shelfari....reviews/2744860
----------------
Mockingjay (Hunger Games Book 3)
- Suzanne Collins
3 Stars
(out of 5)
First off, I read this entire trilogy in a week and while Catching Fire was slower to get going, I loved the first two books. But this one...
By the end of chapter two, I had lost all sympathy for Katniss. She's just whiny and complains and wants to die and kill everyone who has saved her. I get that you can turn that into a good character. But the Katniss we saw in the first two books decided on a goal (win the games and save Peeta, respectively) and went to achieve it. Sure she had her doubts and moments of confusion, but she got through them and grew up as a character. But in Mockingjay, she never gets out of the gloom for more than half a second before she overreacts to any number of things and is back hating them and herself again. Because this is told in the first person, that means we see more of that stupid broom closet than we do of the capital.
One of the other reviews (over on Shelfari) talks about why she is a great character and mentions the portion of the book where people are listing times when she inspired them. All of those I agree with. Those moments are what made the first two books great. Sadly, those moments are mostly absent from book 3. Sure, we have the brilliant scene at the make shift hospital, but beyond that? What does she do except waffle between wanting to help (but not doing anything) and hating random people? There is a major line in the plot about how they have to let Katniss be Katniss, but it seems like Collins forgot that. Katniss is rarely the girl we loved in the first two books. Hell, the entire war could have been completed without her doing anything past a couple of promotional reels. Even once she finally decides to not be worthless (3/4th through the book), the fate of the war isn't decided by her. She could have stayed home and hated on Gale some more for all it mattered.
Which leads me to the ending.
Your lead in a first person story should not spend half of her time in the hospital or insane.
I felt the ending was crammed in. The whole thing with Prim and Snow and Coin could have easily been another book. Who all was involved in what happens with Prim and taking them out would have been a brilliant book 4. But alas, we get the standard "Katniss is crazy and drugged up"... again... still... whatever.
Unlike others, I didn't mind how Collins resolved Peeta and Gale, though the handling of Finnick was awful. Mention Annie, at least! The end part with Prim was brilliant, though, as mentioned above, should have led into another book, or at least another hundred pages on this one. To have that and then just end a few pages later was a waste.
... spoiler about Haymich. I honestly forget from which book, so I'm hiding it.
So yeah... if you've read the first two, you should just read this one as well in order to finish the plot. But it isn't at all satisfying.
... spoilers from the end of three...
...and Katniss has proven that when she is inspiring, we love her... but when she is too concerned with her own loathing, we no longer care if she lives or dies. We keep hoping that she will break out of her funk and realize that while she hides, children are out dying. But she doesn't. She never breaks out for more than a few pages, which is why this book is by far the most disappointing of the trilogy.
Note that on Shelfari, I gave the first two books of this trilogy 5 stars, so put this review in perspective.
------
Comment on the Forums
Read story →
0 comments
Articles